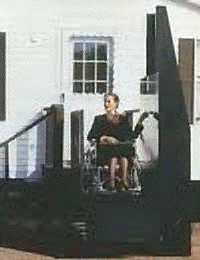 Landing gates & runway enclosure not show
Vertical Wheelchair Lift...LIFE LIFT
Comply with the Americans with Disabilities Act with our Life Lift. As many handicapped persons and elderly become increasingly active in business and socially, requirements for compact, moderately priced equipment to overcome vertical barriers also increase. The Life Lift is a compact, easy-to-operate alternative for any site requirement where a ramp would be architecturally unsuitable or unattractive.
Key Benefits
Meets ANSI A18.1
Custom designed to your application
Lift heights up to 30 feet
Many applications; residential, offices, restaurants, stores, churches, schools, etc.