Giant Lift COVID-19 Update
Giant Lift is fully operational and as a critical manufacturing entity we are here to support all of our customers and end users. We understand there are many challenges now and in the future, both personal and professional. Please know that our thoughts are with you all and we are proud to be able to offer our customers the service they deserve in this critical time.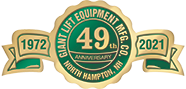 Do you need a quick lead time?
Reach out to us and let us make you a hero with your customer.
NEED A LIFT? - CALL THE GIANT!
800-52-GIANT
Need literature or a quote? - call 800-52-GIANT or send us an email:
Donna@GiantLift.com or Sales@GiantLift.com